Modern Kitchen Remodel
in Fairfield, CT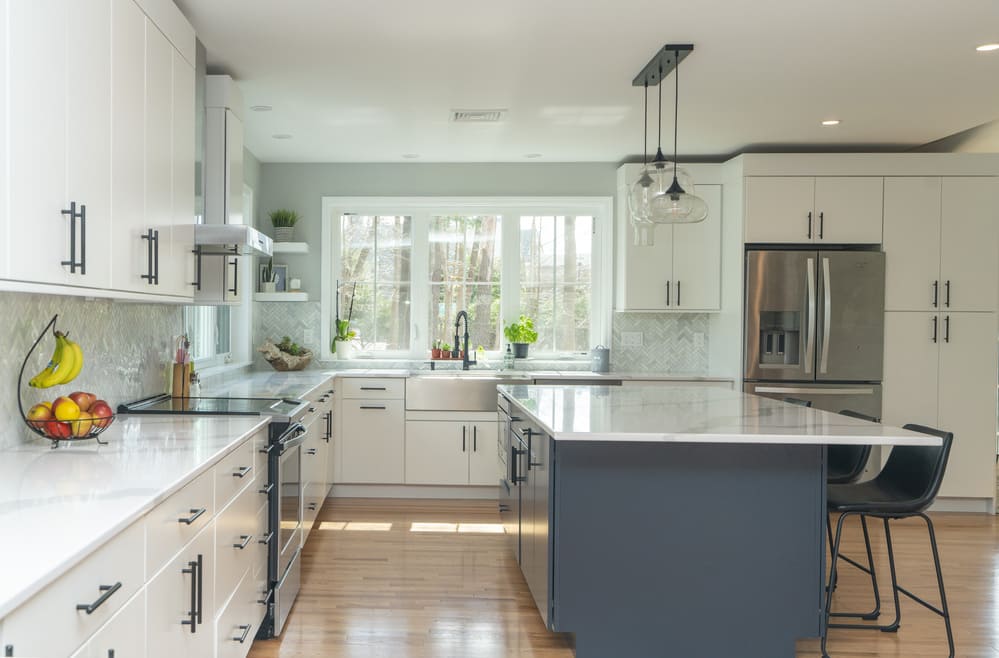 Overgrow kitchens are jungles: appliance cords like creeping vines, cabinets hiding mounds of disheveled storage, insects scuttling inside hard-to-reach cracks and crevices. Past-their-prime appliances and fixtures effuse unpleasant odors; a perennial must lingers in the air. It's not an enjoyable place to be — let alone entertain or raise a family.

When the owners of this Hanford Drive kitchen remodel had enough of battling the overgrowth, they brought in Raymond Design Build. We put our heads together and came up with a luxury, big kitchen design to fit their family. Our kitchen remodeling ideas were so enormous we tore out the sunroom and busted out the back of the house to make them happen. The end product is an effortless lifestyle kitchen design made for family fun and adult entertainment.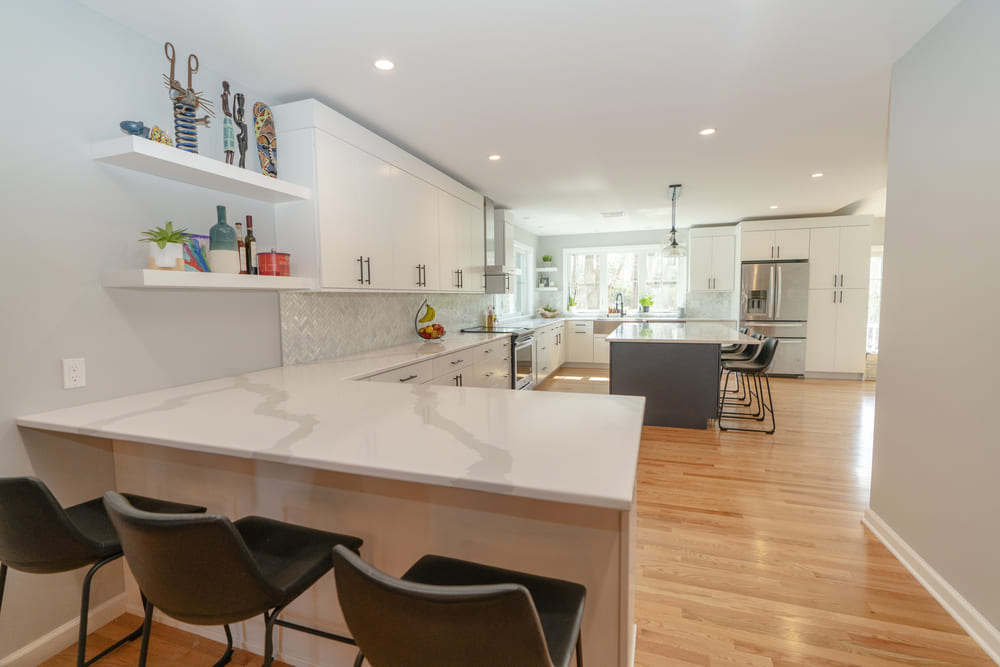 Upon first sight, this kitchen's most impressive characteristic is its size. It's immense. This kitchen has every type of space you can imagine: floor, storage, seating, counter, pantry, etc. Manufactured quartz-look-alike counters stretch with rivers of gray veining. Numerous bar stools hang off a kitchen island and peninsula, providing plentiful seating. Extra empty floor space gives enough room to host many guests or even have a small dance party.

These homeowners needed massive kitchen upgrades to fulfill their dreams. They envisioned a kitchen with two distinct zones: one for family and everyday necessities — cooking and cleaning, major appliances, eating on the island, storage, etc. — and another for entertainment essentials.

Accommodating these homeowners' requests was no problem, but it was trickier to create a design to go with it. We needed a look as appropriate for a family lunch as it would be for a late-night dinner party. We've learned that balance is the key to achieving this effervescent style.

Refined yet comfortable, airy, and grounded. We started by toning down the all-white cabinets and counters with a silvery backsplash, dark gray island, and honey-brown wood flooring. After we balanced colors, we balanced periods and design influences. We mixed modern features like smooth slab cabinets and black hardware (faucet, garbage disposal, and soap dispenser) with classic elements like the antique-inspired chandelier and traditional farmhouse sink.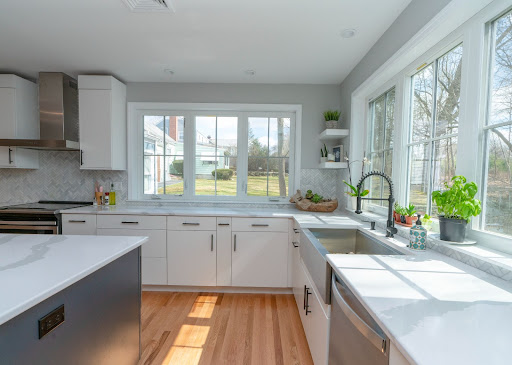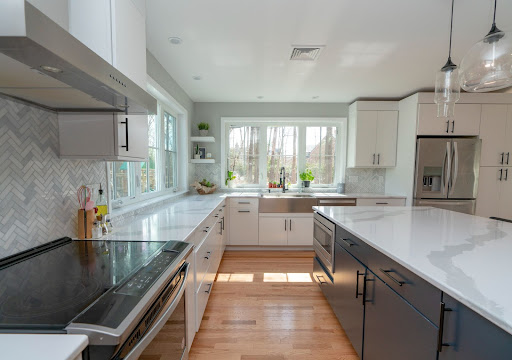 The right side of the kitchen leads out to a spacious living room, so that's where we located the family kitchen zone. This area is about everyday essentials, but we still made it beautiful. Gray herringbone tiles ripple past the electric cooktop and range, stopping only for the oversized windows and bountiful cabinets. A full-depth fridge, inset into a spacious pantry, provides all the food storage space this family needs. Our team snuck in more storage (and added a built-in microwave) on the modern luxury kitchen island. The metal farmhouse sink is a statement look, and it also increases functionality with a cutting board and drying rack slot inserts that snap into place. With so many cabinets and appliances, this space could feel heavy. But light streaming in from outside, a gorgeous backyard view, and floating corner shelves create levity.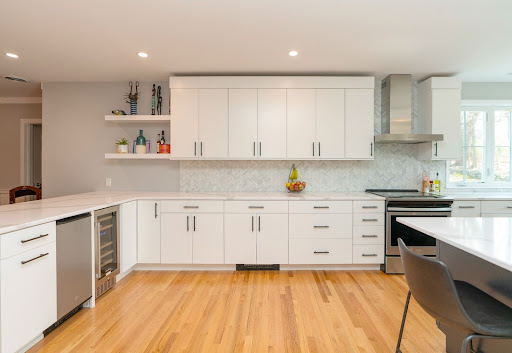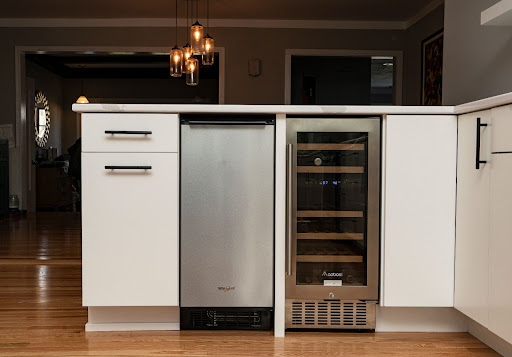 While the family-focused right side of the kitchen is suited for hosting, it isn't optimized. That's the left side's job. The extra peninsula on the far side of the kitchen is the main attraction. It's a bar with a built-in ice maker and wine fridge — the perfect place to make and store drinks. Additional cabinetry allows for glasses, serving platters, and other entertainment items. The peninsula also provides ample space for holding guests' half-drunk drinks or hors d'oeuvre plates.

We installed more floating shelves, giving our clients room to display personal items and decor. Recessed lighting ensures every inch of the kitchen stays illuminated; under-counter lighting and above-the-cabinets lighting increase ambiance and act as nightlights. There is seating behind the peninsula and in the dining room.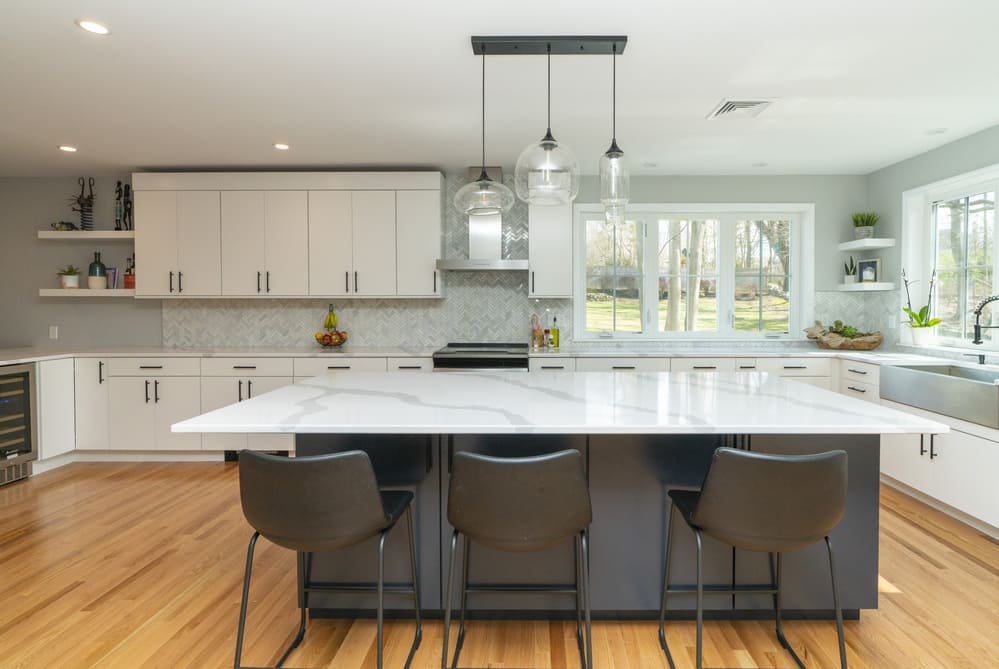 This kitchen remodel isn't just beautiful; it changed how these homeowners live. Before, they couldn't invite anyone over because they didn't have enough space. Due to an old, inefficient kitchen, their everyday lives were more difficult and less enjoyable. That all changed a few kitchen projects later.

These homeowners now have a huge island, loads of counter space, and a kitchen that easily hosts 30 people. What was a jungle is tamed. Instead of outgrowing their space, this family now has plenty of room to thrive.

Are you feeling envious of these homeowners? Are you dreaming of a Connecticut kitchen remodeling project of your own? Get more inspiration for kitchen, bath, and whole home remodeling alike with our project gallery.