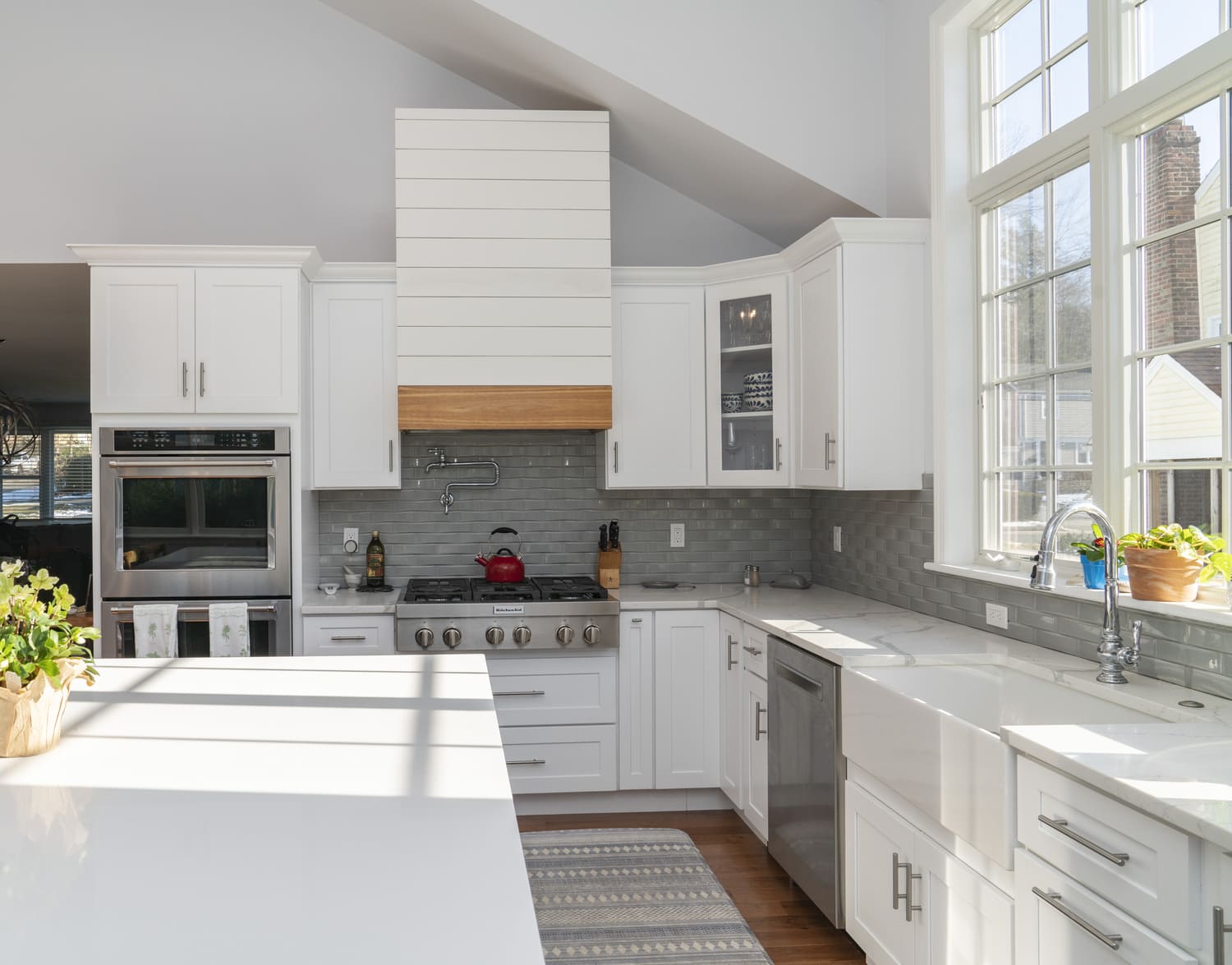 Fairfield County Remodeling and Custom Homes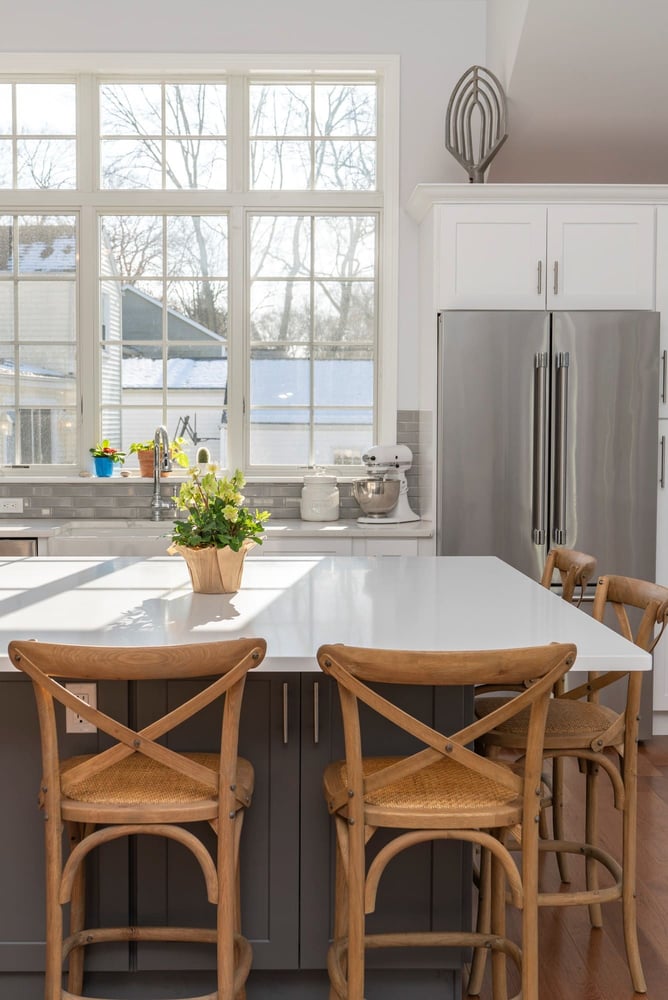 Since our founding in 1998, the team at Raymond Design Builders has been dedicated to creating value for our clients through exquisite craftsmanship and caring customer service. We're the premier design-build choice in Fairfield County.
Your Premier Fairfield County Remodeler
From concept to completion, our staff are enthusiastic about working with you each step of the way to deliver the home of your dreams. We also enjoy collaborating alongside a client's architect as part of a dynamic and innovative team. As a highly adaptive firm, we tailor our proven design-build process per each client's needs and each professional architect's design style.
Raymond Design Builders offer customers something incredibly unique: a design build firm that not only does all design in house, but we also boast an in-house cabinet and mill shop. This enables us to offer highly custom details made to your storage and design preferences, without having to depend on what's available from a manufacturer, like other builders.
Experience Superior Communication
We understand how important excellent communication is for a client's experience. This is why we go beyond the standard correspondence with a 24/7 availability to a construction management software client portal. You'll have access to your construction schedule, a daily job log, documented progress, and a direct communication line to your project manager. Our Critical Path Schedule gives you every detail about your construction timeline you could need. No wondering if your project is on time or worrying that your project will take longer than projected.
Advantages of Design-Build
The design-build method for remodeling, additions, and custom homes offers clients something special. Our design-build process exists to prioritize the client experience by cutting out the extra work of hiring multiple professionals and seeking bids to create the home you need and want. It also improves lines of communication, and is the better choice for keeping your project within budget and on time.
What's one of the most significant benefits of the design-build method? Your project will progress more efficiently without sacrificing impeccable design. High-quality craft within your budget, designed beautifully, all in a process that's smooth and caring–what else could you ask for?
Well, we also choose to build our project cost estimates using a fixed-price method. This means that the cost in your contract is the cost you'll pay. No unexpected fees or creeping costs during construction. We respect your budget and understand the importance of price predictability.
Where Do You Start?
The decision to remodel usually begins with frustration with your current home. Whether you need more space, desire a home that's perfect for hosting friends and family, are tired of your home's dated finishes, or your home's layout simply doesn't work for you, a remodel or new home can be the solution to your home's challenges.
Your first step should be consulting with a professional team that can listen to your challenges and ideas, and collaborate with you to come up with solutions that add function and style to your everyday life. Improve your daily routine with a peaceful bathroom retreat, a smart and functional kitchen, or an entirely custom home for a fresh new start.
Where We Work
We serve the Fairfield and Westport areas, specifically: Southport, Sturges, Sasco, Greenfield Hill, Fairfield Beach, Compo, Saugatuck Island, Greens Farms, Coleytown, Red Coat, Long Lots, and Old Hill. Raymond Design Builders is here for remodeling, additions, outdoor living spaces, and custom home needs. Your entire home is our specialty.
Ready to Get Started On Your Fairfield County Home Project?
Our knowledgeable and friendly crew is ready and waiting to take on all types of luxury remodeling projects and custom homes.
Contact Raymond Design Builders to learn more about our process, and discover what our design-build method can do for you.
Versatile,
Custom Services
Reliable, Seamless Communication
Innovative, Creative Ideas
Licensed, Insured Professionals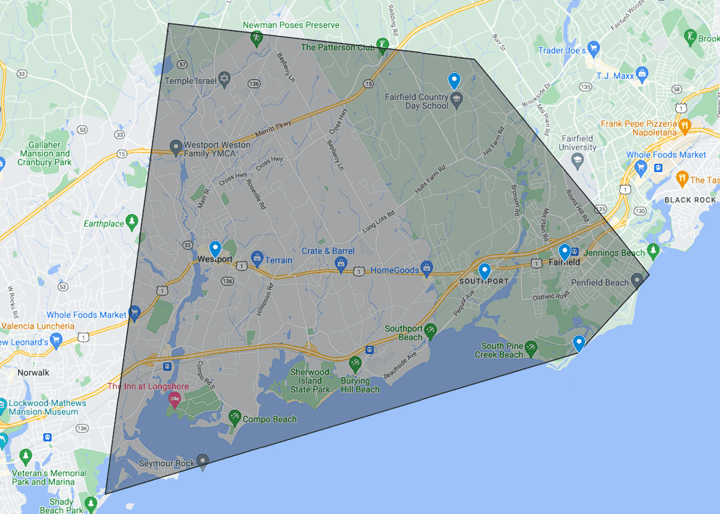 Our Service Areas
From our home, based in Fairfield, Connecticut, we proudly serve residents in:
Fairfield
Southport
Greenfield Hill
Fairfield Beach
Westport
Not sure if we service your area? Get in touch today!
Schedule a Consultation Today!