Modern White Kitchen Remodel in Fairfield
in Connecticut
When they reached out to Raymond Design Builders about a remodel, the owners of this Fairfield home had been making do with a too-small kitchen for far too long. Their galley kitchen barely fit two people — and they're a family of four with two growing teenagers! It was definitely time for an upgrade. So, we got to work.

In the first few conversations with our new clients, a picture began to emerge: a kitchen that was not only physically expanded, but also designed to feel open, airy, and comfortable. Our clients had resolved to leave the years of working in a cramped kitchen behind; and they wanted a beautiful, functional kitchen where their family could cook meals together, entertain friends, and enjoy everyday life.

Once we had our vision, we set about making it real. The home was simply too small to accommodate our client's desires, so we decided to expand. However, this meant building on protected wetlands. It wasn't anything our team couldn't handle! At the end of seven months, we added approximately 30% to the home's overall square footage with this kitchen remodel and a first-floor remodel.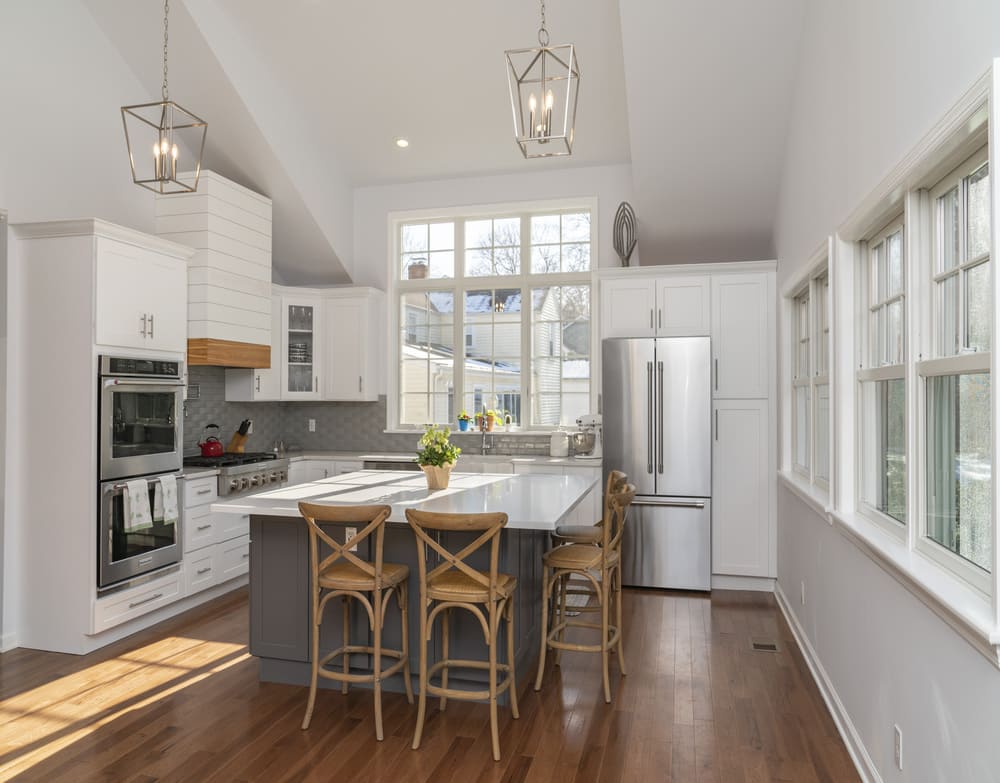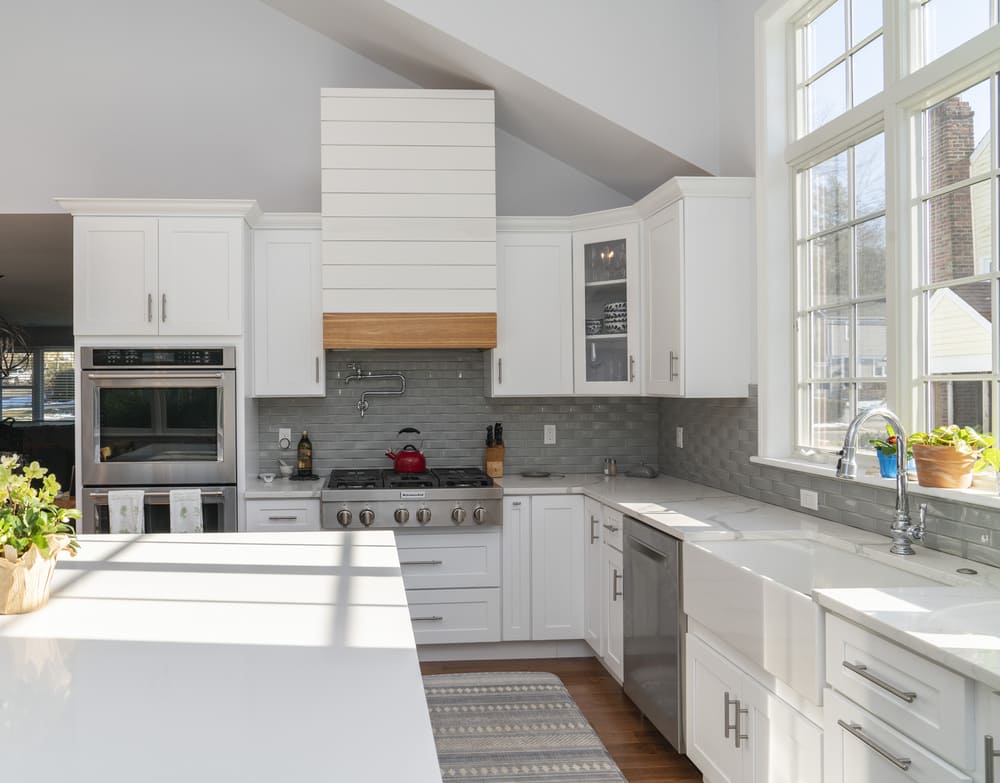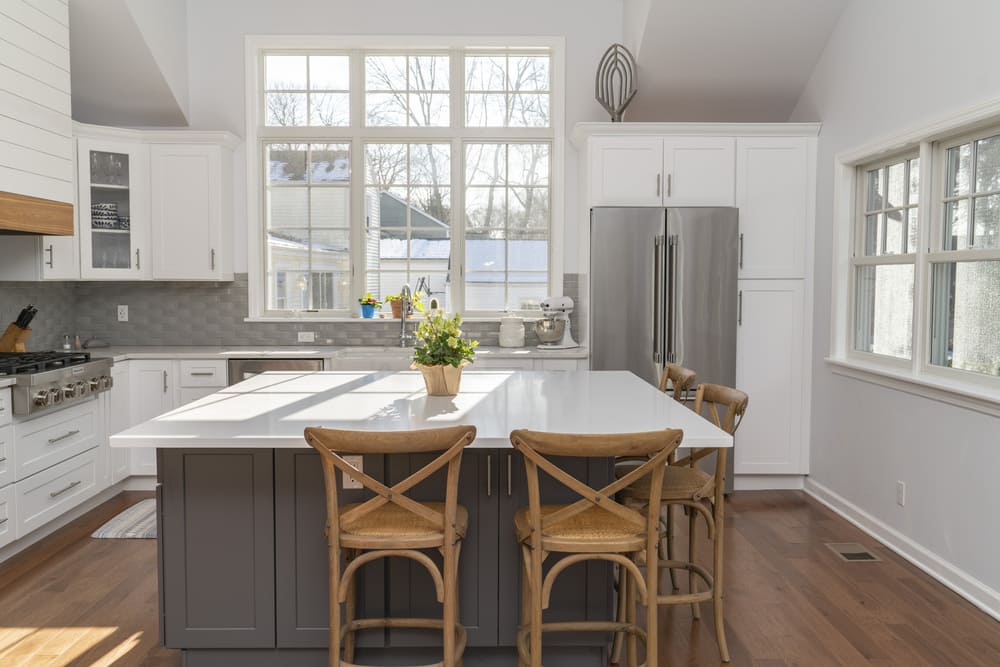 By the time we were finished, we'd expanded the kitchen footprint from 7-by-15 feet to 25-by-30. And our aesthetic choices were made to maximize this openness as much as possible. We started with an all-white base — white cabinets, walls, and counters — which reflects natural light, making the room feel brighter and bigger.

Next, we added subtle colors, gentle textures, and elements of the modern farmhouse aesthetic to make the room feel comfortable and cozy, the perfect place for family. The rich color and soft texture of the oak flooring infuse the room with warmth, while cool gray tones produce a gentle ground effect. The wavy gray backsplash and soft rug add some softness. Meanwhile, the stove pot filler, glass-paneled cabinet, and double oven add a touch of elegance.

We also created a custom ship-lap stove hood. Our in-house mill shop made acquiring the custom piece easy and it now stands as a unique centerpiece in this modern kitchen!
To give our clients the counter space they'd been dreaming of, we planted a large island in the center of the kitchen. The island acts as storage and a seating place fully equipped with wooden bar stools. We also opted for a luxurious white marble countertop on the island (since marble requires more care, we went for granite on the other counters). And bouncing off the white counters is bountiful natural light, streaming in from a window that's over 7 feet tall!
Altogether, there are five windows and a set of glass doors in the kitchen area alone. This brings a ton of light into the space, which makes it feel more spacious. Plus, that seven-foot-tall window faces south, giving the kitchen direct sunlight from 8 a.m. on.
This kitchen's artificial lighting makes just as much of a statement as the natural light does. Understated task and recess lighting keep the kitchen well-lit at all hours of the day or night, but the real statement is in the pendant lighting. These structural metal lamps float in the center of the ceiling, hanging from an overhead ridge and showing off the high ceilings. The style of the pendant lights is echoed in the sculptural metal decorations placed around the room and ties in the silver appliances and cabinet knobs, bringing the whole look together.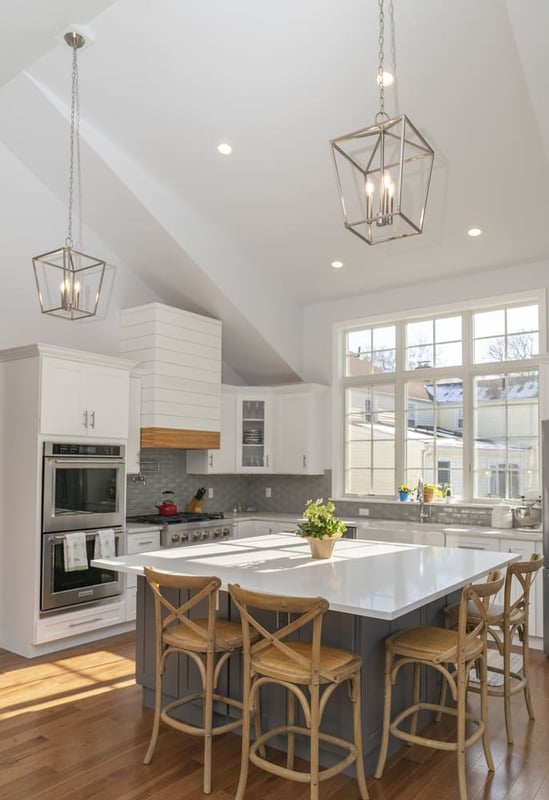 A kitchen this beautiful needs a place to be admired from and that's exactly what this sitting area provides! Alongside elegant french doors that open up to the backyard, a gray chair mimics the accents in the kitchen and tastefully decorated wooden tables serve as a place to set drinks, mail, or other knick-knacks. There's also an extra television, which is great for hosting large parties or watching the big game while making snacks.

It's the perfect place to drink a cup of coffee and watch the sunrise or take a load off after a long day. Combined with the home expansion and our team's intentional kitchen design, this sunroom allowed us to give this outgrown home a fresh start — and ample room to grow!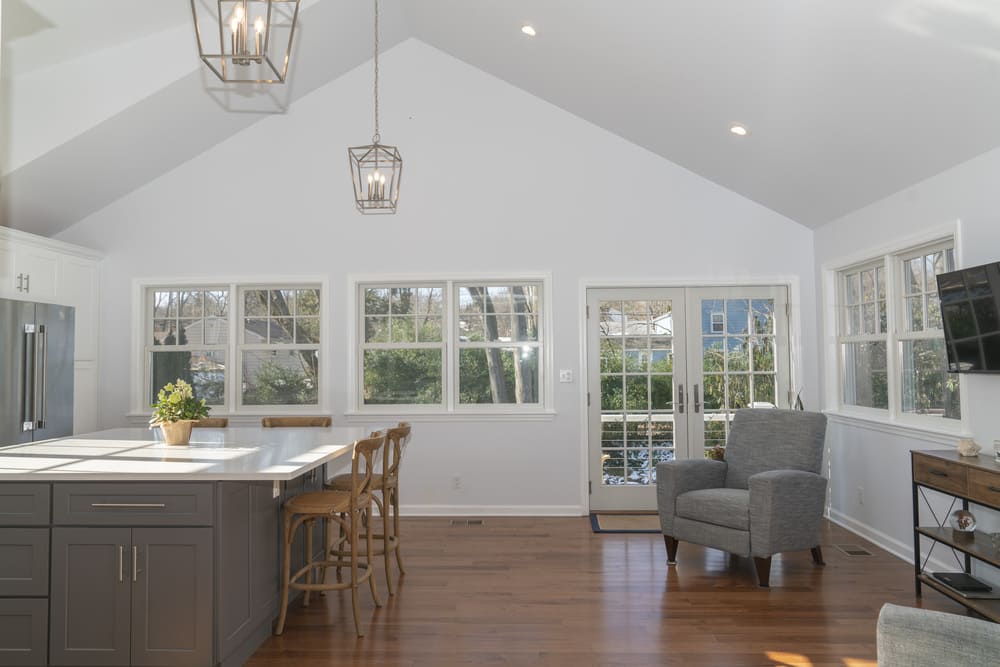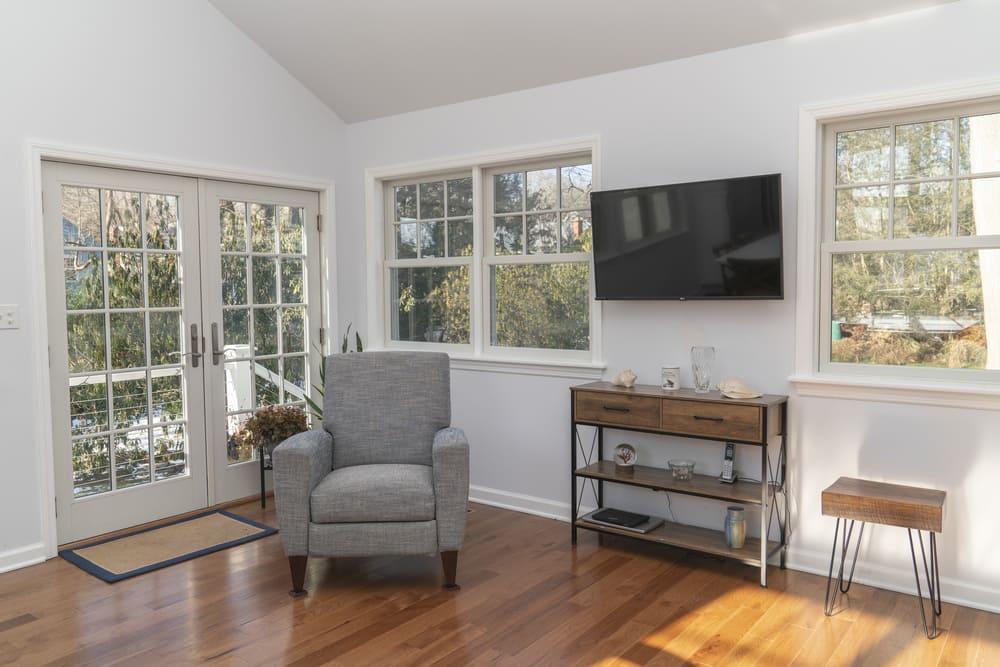 Other Projects You'll Love
Modern Japanese-Style Bathroom Transformation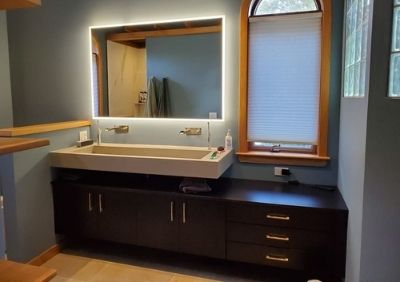 Dreamy & Cohesive Pool House Addition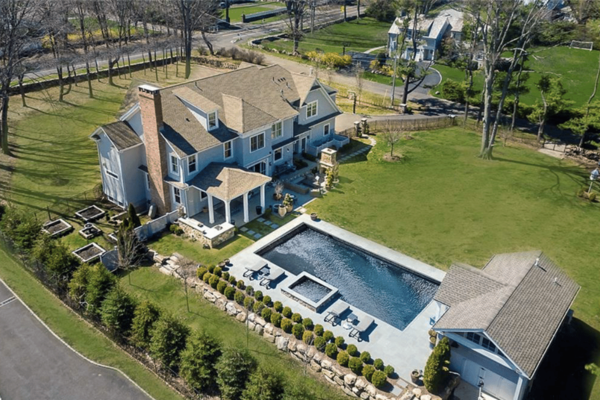 Nautical Third Floor & Rooftop Deck Remodel